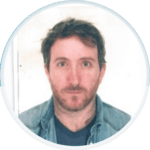 about Morgan / / / showreel
Morgan is an Australian Filmmaker ~ Writer, Director & Producer. He's always up for collaborating and making beautiful new things.
A little backstory:
As a lad, Morgan lived in a small country town in outback Australia ~ and even though late fines were steep, he was frequently found at the local video store, pouring over everything from Braveheart to Breathless, Tora! Tora! Tora! to Titanic.
A pivotal moment: When he was 13 he snuck into a screening of A Clockwork Orange at the Valhalla Cinemas in Glebe, Sydney ~ at that moment he knew that he had to make movies.
He studied film at Melbourne University, then moved to Sydney to begin working in the industry. He was drawn to Writing & Directing, and made his way through the biz, working on countless gigs, from Music Videos and Commercials to Feature Films. During this time, he made numerous shorts, which screened at festivals including Tropfest and the Next Wave Festival. He then jumped at the opportunity to be Claire McCarthy's Director's Attachment on The Waiting City (2009). Unfortunately, the GFC happened and the attachment didn't.
After a hiatus to open a small bar, travel, and "find himself" ~ Morgan returned to complete a Masters Degree at Griffith Film School in Brisbane. There, he wrote and directed the short Disabused (2016), which won the Australian Directors Guild award for Best Direction in a Student Film. He was then selected to write and direct the Griffith Film School produced, half-hour short Rider (2017), as part of a 3 chapter anthology feature film co-produced with the Beijing Film Academy and Dankook Film School in Seoul. On The Move (2018) premiered at the 2018 Beijing International Film Festival and had it's Australian premiere at the 2018 Brisbane International Film Festival. Rider premiered at the 2019 Cannes Court Métrage.
Morgan is currently developing a number of feature film and television projects in both the fictional and documentary world. Making fashion videos to feed his hungry child and pining for simpler times. Hit him up for Paul Thomas Anderson trivia, to grab a drink or even better, to make something beautiful.